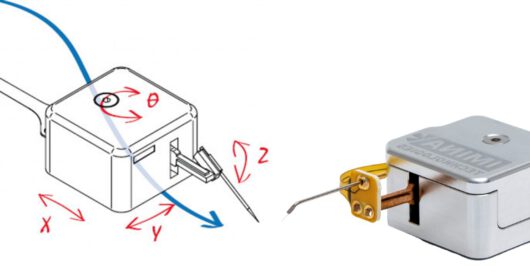 Micro Robot miBotTM
Imina Technologies SA
Robotic Solutions
for Positioning, Handling and Sensing at Micro and Nano Scales
Imina Technologies is the maker of the miBot™, an extremely versatile and intuitive to use piezo-based manipulator. In combination with various third party instruments, it is used to precisely position  probe tips on electronic devices and MEMS, or to handle and characterize properties of nanoparticles and biological samples.
4 Degrees of Freedom
Large Travel Range of Several cm
Resolution Down to nm
High Stability
Intuitive to Control
Our Offering is divided into 2 Product Lines – MICRO and NANO – with a High Level of Upgradability between each other that adapt to your Equipment, Samples, and Experimental Requirements.
NANO Product Line
In-situ Nanoprobing and Electrical Failure Analysis (EFA) Solutions for SEM,FIB or Dual Beam.
The Positioning Resolution is < 1 nm. Removable Platforms easily (in Minutes) are mounted on the Sample Position Stage of  most SEM Models. The Platforms can be used with up to 8 miBot™ Mobile Nanoprobers.
The Solutions are compatible with Advanced Microscopes, using short Working Distances, Tilted Angles, and Magnetic Immersion Mode.
EFA Applications like EBAC/RCI, EBIC, EBIRCh are supported.
Our Precisio™ Software provides an Integrated Workflow to allow Positioning oft the Nanoprobes, running Electrical Test Measurements, and to Support Processing and Reporting.
MICRO Product Line
Precisely Position Probes, and physically interact with Samples, using miBots™ integrated to Optical Microscopes, Probe Stations and Inspection Tools.
The Positioning Resolution is < 100 nm. Different Platforms adapt to the available Space and Experimental Needs, and can hold up to 8 miBot™ Mobile Robots.
Stand-Alone Probe Stations for either small Probes or Wafers can allow Semi-Automatic Operation.
Microprobing Platform Kits integrate to existing upright or inverted Optical Microscopes, Probe Stations, Semiconductor Inspection Tools, AFMs or Glove Boxes/Environmental Chambers.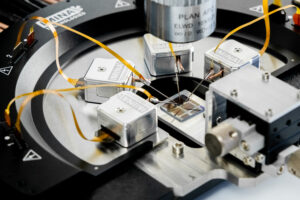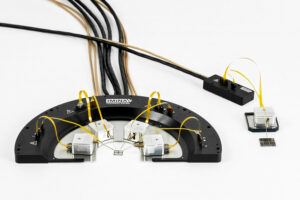 Probes and Sensors
Extend the use of your miBot™ to various Types of Applications thanks to its Compatibility with several Tools and Sensors. In Fact, the miBot™ is equipped with a Proprietary Tool Holder Mechanism that makes the Exchange or Replacement of Tools fast and convenient. In Minutes, turn the miBot™ from an Electric Probe or Manipulator to an Optical Fiber Positioner or Micropipette Positioner. Special Tool Holders for other Tools are available on Request.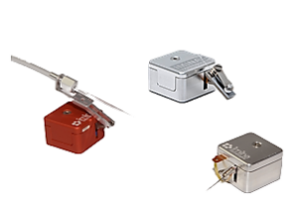 Applications:
In-situ Material Characterization
Micro/nano Handling
Electrical Transport Measurements
SEM/TEM Sample Preparation
MEMS/NEMS Testing
Local Collection of Light
Liquid Dispensing
Typical Samples:
Transistors
Via Chains
Die or Open Packages
MEMS/NEMS
2D Material Devices
Nanowires and CNTs
Mesocrystals