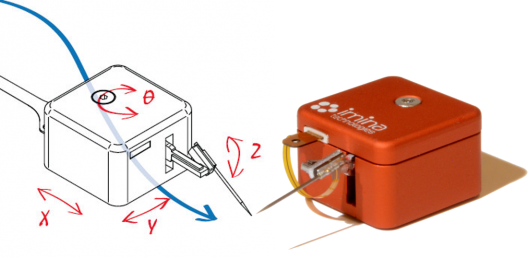 Micro Robot miBotTM
Imina Technologies SA
Robotic solutions
for positioning, handling and sensing at micro and nano scales
Imina Technologies is the maker of the miBot™, an extremely versatile and intuitive to use piezo-based manipulator. In combination with various third party instruments, it is used to precisely position  probe tips on electronic devices and MEMS, or to handle and characterize properties of nanoparticles and biological samples.
4 degrees of freedom
Large travel range of several cm
Resolution down to nm
High stability
Intuitive to control
Our offering is divided into 3 product lines – Nanoprobing, Compact, and Portable – with a high level of upgradability between each other that adapt to your equipment, samples, and experimental requirements.
Probes, Micro-Tools, and Sensors
Extend the use of your miBot™ to various types of applications thanks to its compatibility with several tools and sensors. In fact, the miBot is equipped with a proprietary tool holder mechanism that makes the exchange or replacement of tools fast and convenient. In minutes, turn the miBot from an electric probe or optical fiber positioner into a manipulator of nanoparticles (microgripper) or biological samples (micropipette). Special tool holders for other tools are available on request.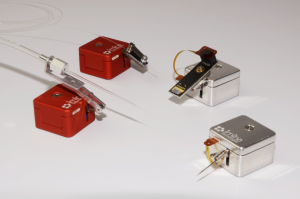 Applications:
In-situ material charakterization
Micro/nano handling
Electrical transport measurements
SEM/TEM sample preparation
MEMS/NEMS testing
Local collection of light
Liquid dispensing
Typical samples:
Transistors
Via Chains
Die or open packages
MEMS/NEMS
2D material devices
Nanowires and CNTs