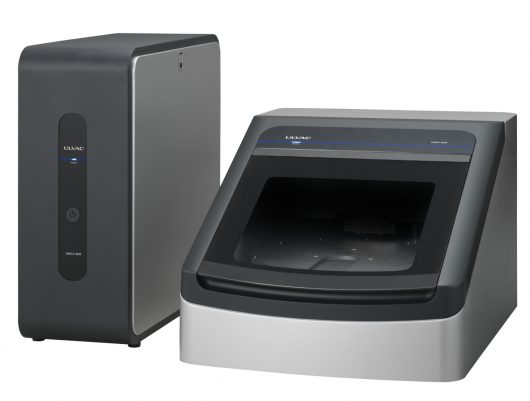 ULVAC High-Speed Ellipsometer
Ulvac Inc.
Links
ULVAC High-Speed Spectroscopic Ellipsometer
The UNECS-Series of Spectroscopic Ellipsometers by ULVAC includes different configurations, ranging from manual and portable instruments to motorized units and integratable sensors. Two different wavelength-ranges can be selected, either 530 nm – 750 nm or 380 nm – 760 nm.
All instruments operate at an unmatched high measurement speed by using the 'snapshot' method resulting in an acquisition time of only 20 ms per measurement spot. This allows for instance the mapping of an entire wafer of up to 300 mm in short time.
This technique is highly precise with a repeatability of the thickness-measurements as low as 0.1 nm.
Ease of use and a maintenance-free hardware are only two of the benefits of the instruments. The software comes with a huge database of predefined materials which allows for the analysis of complex layer stacks in the range of 1 nm to 2 micron. The database can be edited and expanded by adding material data which is not included.
ULVAC Spectroscopic Ellipsometers are ideally suited for the analysis of transparent or semi-transparent layers (oxides, nitrides, photoresists, ITO, etc). The thickness, the refractive index, and the extinction-coefficient of each layer of a stack can be measured.
UNECS-Portable
The UNECS-Portable is a compact and transportable instrument for the use anywhere outside a lab, e.g. on-site at customer's place or also on samples which might not fit onto a stage. Since there are no moving parts inside, no re-adjustment is needed after transport and the instrument is directly ready to use.
UNECS-1500A/2000A/3000A
(Automated Mapping Stage)
There a three models available with different sizes of samples-stages accounting for samples of 150, 200, and 300 mm in diameter. The motorized R-θ stage in combination with an autofocus and the high measurement speed allow for wafer  mapping in shortest time. Thickness distributions can be measured with a density of up to 2,000 individual spots.