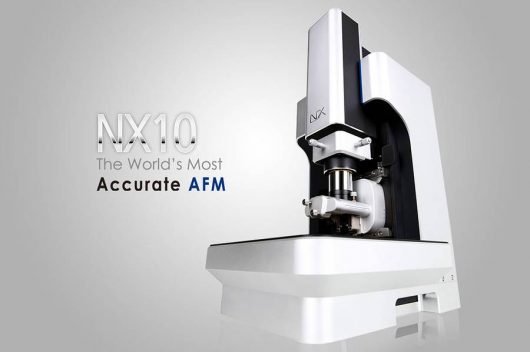 Park Systems AFM
Park Systems
See articles about Park Systems AFM in the new NANOscientific magazine: www.nano-scientific.org
See here a film (3 minutes) about the Park AFM technology: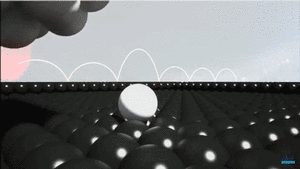 Park NX20 the worlds most accurate AFM for large samples
See the video of the NX20
Best for small samples: The Park Systems NX10 AFM
The advantages of NX10 explained here in a 5 min. video.
Fast-Scan (for example 20 Hz) is readily available with any Park NX. Please see here a 2 minute film about this feature.
Discover New Modes like: "PinPoint Conductive AFM" and many others. PinPoint Conductive technology has succeeded in solving all of the shortcomings of conventional conductivity AFM such as quick tip wear, degradation of resolution, low signal to noise ratio, no tip pressure control, and poor reproducibility of data"
The World's Most Accurate AFM
Using its long tradition in the manufacturing of Scanning Probe Microscopes, Park has combined the well proven ease-of-use with a number of technical innovations you can hardly find with other instruments.
The most important feature is the decoupling of X,Y and Z scanner, having the advantage that a "True Non-Contact" Mode can be realised being very gentle to both, your sample and your tip. The X,Y flexure scanner scans highly accurate and flat and is specified with an out-of-plane movement less then 1nm over 50micron scan range, respectively 2nm over 100 micron X,Y scan range. Other then piezo tubes typically used in other AFM, the Park flexure scanner images flat samples real flat without further image processing.
All Park AFM are of course hardware-linearised, for small scan ranges the linearization can be switched off and come with a high resolution on-axis video optics.
All Park AFM use the same technique so the main difference can be found in the maximum sample size and the level of automation.
The Park AFM comprise a number of different research instruments as well as systems dedicated to special applications, e.g. XE-Bio, which introduces for the first time the new SICM (Scanning Ion Conductance) mode, which allows to image biological samples in their natural surrounding without any mechanical impact of the tip.
Coupling of the AFM with other instruments (e.g. a Raman spectrometer) is easily possible.
Besides these instruments mainly dedicated to research, there is also a complete line of fully automated systems available, targeting to industrial applications.
The base of the great success of the Park AFM series are the technical advantages:
New AFM platform with fast Z-scanner, separated from the XY-scanner, flexure scanner instead of tube piezos, closed loop for XY and Z (separately switchable to open loop)
True Non Contact Mode – no impact to the sample and optimum lifetime even for very sensitive measuring tips, resulting in the best possible AFM resolution
Nanometrology: < 1nm Z-deviation when scanning flat surfaces over a 50 micron scan range (without software correction); excellent linearity and orthogonality (scans under 0° and 90° are identical)
Easy to use: Good top view optics and the possibility to exchange tips using your fingers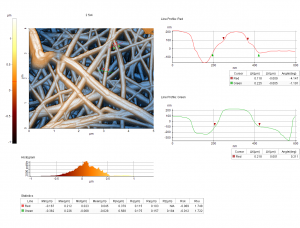 AFM image made by Toni Moldovan on polymeric nanofibers.
Instruments
Applications:
Atomic Force Microscopy (AFM, DFM)
Scanning Tunneling Microscopy (STM)
Lateral Force Microscopy (LFM)
True Non-Contact Mode (nc-AFM)
Phase Imaging / Phase Detection Microscopy (PDM)
Magnetic Force Microscopy (MFM)
Scanning Thermal Microscopy (SThM)
Scanning Kelvin Force Microscopy (SKFM)
Force-distance Spectroscopy (F-d Spectroscopy)
Force Modulation Microscopy (FMM)
Conductive AFM (I-AFM)
Electrostatic Force Microscopy (EFM, DC-EFM)
Scanning Kelvin Probe Microscopy (SKPM)
Scanning Capacitance Microscopy (SCM)
Scanning Spreading Resistance Microscopy (SSRM)
Nanoindentation
Nanolithography
Nanomanipulation
Tip Enhanced Raman Spectroscopy (TERS)
Electrochemistry AFM
Ion Conductance Microscopy (live cell imaging)
PinPoint Conductive AFM
Park Systems Industrial AFM's
The automatic Park AFM's are used in the semiconductor industry for various applications.
Please contact us for more details
Instruments
XE-HDM
XE-PTR
XE-3DM
XE-CMP
XE-WAFER
XE-LCD
NX-Hivac (High vacuum AFM for failure analysis)